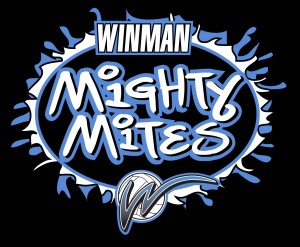 The WinMan Mighty Mites is a 12 & Under volleyball program designed as an introductory program for boys and girls in grades 4-7.
Program Philosophy
The WinMan Volleyball Club (WVC) is an elite club in Manitoba that has in roots in club volleyball since 2001. WinMan Volleyball Club offers club programs to athletes in the 13 & Under to 18 & Under age categories.
In accordance to the LTAD (Long Term Athlete Development) model, which is an initiative by Sport Canada and Volleyball Canada, WinMan Volleyball Club serves to be a progressive club once again by researching and following recommended training practices by the world's elite in Sport Science.
Generally, WinMan Volleyball Club serves as a developmental –elite program in the sense that our main focus has been on athletes at the "Training to Train" stage. We are an elite club, but our main focus has been in athlete development. We have had many successful athletes go on to "Train to Compete" and the "Train to Win" stages in our sport.
As a club, we felt that we would offer programs near the beginning of the continuum of athletic success, and that is to offer a program for athletes between the ages of 9-12, or the "Learn to Train" stage.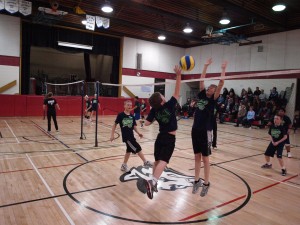 Mighty Mites
WinMan Mighty Mites is just that. We will teach the athletes the methods on what it takes to train for a sport. Our goals are to provide formulized training methods specific to volleyball, but with emphasis on general sport skills that are suitable to a variety of athletics. (Athletes should not be specializing at this age!)
It is our hope that graduates from the WinMan Mighty Mites program will go on to our competitive teams at the 13-18U age levels.
Mega Mighty Mites
Mega Mighty Mites is a program for those Grade 6 athletes who successfully completed Mighty Mites in previous years.
We will also accept registrations from athletes in Grade 7 who are looking for this enrichment opportunity.
Coaching Staff
The head coach of this program is Mr. Tim Au. Tim is an experienced Physical Educator who has taught at both the Middle Years and Senior Years level.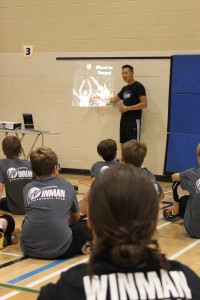 Tim has over 27 years of coaching experience at the grassroots, developmental, and elite levels.
Tim has won numerous club provincial championships, and his teams have medaled each spring at the National Championships since his first club coaching experience. Other accolades include coaching the Team Manitoba Canada Games Gold medalists in 2005, numerous conference championships at the middle years and Varsity level, as well as a MHSAA Provincial Championship with his Varsity team in 2008 and 2011. Tim was named the MVA Age class developmental coach of the year in 2003 as well as the Volleyball Manitoba High School coach of the year in 2008 and 2022.
Tim will be assisted by former or current WinMan athletes in high school and University.
Training Sessions
A general Mighty Mite practice will include:
a) Warm up phase (development of athletic skills, flexibility, and physical training)
b) Sport Specific Technical/Tactical training
c) Game Play
The focus will be on "learning how to compete" which will be accomplished through the latest pedagogical training methods that will be employed by the coaching staff.
Most of all, there will be a huge focus on FUN, so that we can promote a love of physical activity, a love of volleyball, and also develop valuable life skills along the way.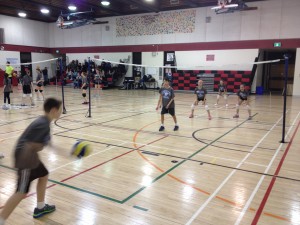 Program Details 
When: 8 weeks, on Friday Evenings Jan 12 – March 8th, 2024
Time:
3 Sessions of Mighty Mites and are offered:
Session 1: 6:15-7:25pm
Session 2: 7:25-8:35pm
Session 3: 8:35-9:45pm
Location: Arthur Day Middle School 43 Whitehall Blvd. (Gym is accessed through parking lot doors of St. Martin Blvd)
Cost: $150 per athlete. Payable by cheque or e-transfer to winmanvball@gmail.com
Registration is not considered complete until payment is received. Registrations are limited for participants in each session to ensure optimal learning environments . Registrations will be processed on a first come first serve basis.
Refund & Cancellation Policy
Planning for all WinMan camps and programs is based on current enrollment numbers well in advance of the camp/program start date.  As a result, no refunds or cancellations are permitted, except for medical reason.  If a player is unable to attend the camp/program (and notice is given prior to the start date) due to medical reasons, he/she will receive a refund for their full amount paid less a $35 administration fee.  A doctor's note is required to substantiate this type of cancellation, and this note must be provided within 1 week of notification.
Please note that credits issued are non-transferable.
We thank you very much for your understanding and support of our programs.
---
REGISTRATION for the 2024 Mighty Mites Program will open Oct 2023

Online Registration Reminders
Be sure to register your son / daughter in the correct session
Be sure to click on the correct session and complete the Form.
Once the form is complete, YOU MUST pay by cheque, cash or e-transfer to finalize the registration process.  The Mighty Mites Volleyball program Registration fee is $150.
Payment Instructions
FOR MIGHTY MITES VOLLEYBALL PROGRAM
E-transfers of $150 made to winmanvball@gmail.com    Please note the athlete's name, and age category that they are trying out for in the message section of e-transfer. (i.e. Larry Winman, Session 2 Mighty Mites fee)
Cheques for Mighty Mites Volleyball Program are to be mailed to:
Please note the name of the athlete and session on the cheque.  (i.e. Larry Winman, Session 2 Mighty Mites fee)
WinMan Volleyball Club
54 McMullen Crescent
Winnipeg, MB
R2C 3W9
E-Transfers are preferred as it will provide a timestamp on the registration completion as spots fill up quickly.
If you have any questions, you can contact the Mighty Mites Program Head Coach and Director
---
Registration Links –
All 2024 Sessions Sold Out
Thank you for another sell out year!
Mighty Mites Session 1: 6:15-7:25pm –
SOLD OUT 
Email winmanvball@gmail.com to join the waitlist
Mighty Mites Session 2: 7:25-8:35pm-
SOLD OUT 
Email winmanvball@gmail.com to join the waitlist
Mega Mighty Mites Session 3: 8:35-9:45pm
SOLD OUT 
Email winmanvball@gmail.com to join the waitlist