December 17, 2018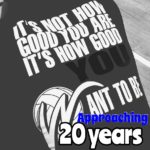 Another club season tryout period has come and gone.  Our community of coaches and volunteers supported each other to offer a solid day of evaluative sessions.  We had close to 300 hundred athletes come out to our tryouts.  This speaks volumes to our program and the growth of the game in Manitoba.
As we plan for our upcoming club season, we have uniform fittings taking place this week so be sure to attend your assigned fitting times.  Approaching 20 years in Manitoba, the WinMan Volleyball Club is proud to continue a culture of excellence and extend our congratulations to each player selected to wear the WinMan jersey with pride.
We also wanted to thank everyone who attended our evaluation sessions and would like to wish everyone the best of luck this upcoming club season.